In a year of selling your own CDs or DVDs you could make more money than in a lifetime of selling downloads - especially if you're a gigging band or artist, selling merchandise at gigs. So once your mastering is done it's worth thinking about getting a run of discs manufactured.
Replication has always been the standard way of making commercial bulk quantities of CDs and DVDs. It's sometimes called 'Pressing' - because the discs are pressed in a high-precision injection moulding process. There's a minimum order of 500 and the price depends on how many you want, and what sort of packaging you want them in.
Duplication is the preferred method for smaller runs, where.the discs are burnt on duplicating machines. Minimum for duplication can be as little as 20, but realistically 50 or 100 is more cost-effective. There comes a point, usually around 250 where the price is such that it's worth considering a 500 pressing run.
3 Steps to Manufacturing...
1. Decide how many discs you want. This may determine whether to go for Replication or Duplication.


2. Decide what sort of packaging format you're looking for. The common formats are pictured below. If there's a Booklet involved I'll need to know how many pages - 2, 4, 6, or (for replicated discs only) 8 and over. and whether you want B/W inside pages or colour throughout.


3. Call me for a quote for the manufacturing, and advice on what to do about artwork.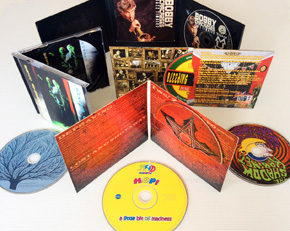 In fact, you can call me for free expert help and advice on any aspect of optical disc manufacturing - even if you're only at the stage of thinking about it!